Selma Alvida Antonson
1870 - 1959
Selma Alvida Antonson was born January 8, 1870 in Svenljunga, Alvsborgs, Vastergotland, Sweden.

She came to the United States in 1895.

Source: Emihamn, Swedish passenger lists
Selma bought land in Worcester, Massachusetts in 1899. You can look at the agreement here.
Selma married John Peter Benson on December 20th, 1904. Six months later her daughter was born. She had a son John Benson (Jack) born July 12, 1907 and a still born baby born on May 29, 1910. All children were born in Worcester, Massachusetts.
Selma's husband died in 1915. She and her children went to Sweden to live. They returned to the United States in 1919 and went back to Sweden. Her children wanted to live in the United States so they were stow aways on a boat in December 1919 to return to the United States. You can read more about this in the section titled Swedish Research. You can view Selma's passport here.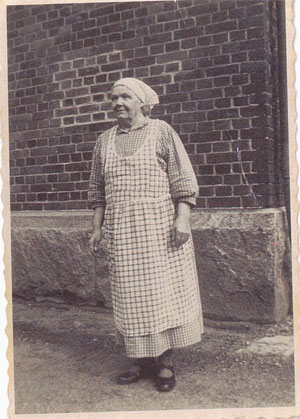 Click here to view a Swedish document that I don't know what it is. It's dated 1923 and 1924.
I have been told that Selma died in a house for the poor in Sweden. After her death each grandchild received a small amount of money. Below is a receipt for this money.