Thomas Jefferson Stevens
1803 - 1879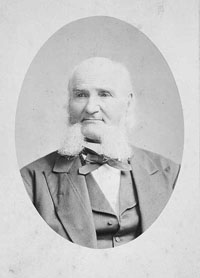 Thomas Jefferson Stevens
Thomas Jefferson Stevens was born in Enfield, New Hampshire. He was a physician and had 4 wives.
He married Abigail Baker in Marlow, New Hampshire on March 5, 1829. They had four children - Charles Wistar Stevens, Alfred H. Stevens, Abigail Baker Stevens, and Osman Stevens.
Charles Wistar Stevens travelled to France and met his wife. He returned to the United States and graduated from Havard Medical School. He wrote many humorous books. You can find out more about him in Boston Of-Today at Google Books.
Abigail Stevens married John Henry Gould. She painted water colors as Abbie Gould.
Thomas Stevens second wife was Betsy Duncan. They had three children - Helen, Emma, and Milan. Betsy is my ancestor along with Milan. Helen married Horace Pitcher. They had at least three children who died young. Emma never married. Milan has his own biography page.
Thomas and Betsy moved to Charlestown, Massachusetts where their third child, Milan, was born.
After researching Thomas's children, the only descendents for Thomas Stevens are from the child of Milan. I don't know what happened to Charles Wistar Stevens daughter Charlotte. Wistar Stevens (Alfred Stevens son) had at least one child, Alfred, born in Ohio. The rest of the descendants died young or never married. You can view these people in the Stevens descendant report.
Stevens Family Pictures
View actual images of the family.
Thomas Stevens third wife was Laura Ann Waterhouse. It was her second marriage so Waterhouse is the name of her first husband (father's name was Robbins). There is no record of her death and I think they were divorced.
Thomas Stevens fourth wife was Charlotte Waterman. She was born in France and this was her second marriage. She is buried in the family plot at Cambridge Cemetery with many of the Stevens family.

Cambridge Cemetery
View actual images of Cambridge Cemetery
Thomas Stevens was involved with the founding of The Charlestown Five Cent Savings Bank. It was a bank to encourage thrift so no deposit was too small. Also minors could bank without a guardian.
Thomas Stevens is not listed in "The Physicians and Surgeons of the United States", published in 1898. He was a physician. Did he go to school? Did he go to school in Canada?
Boston Journal
April 10, 1879
Charlestown District
FUNERAL OF THE LATE THOMAS J STEVENS.
The funeral of the late Dr. Thomas. J. Stevens, for thirty five years a practicing physician in Charlestown, took place yesterday afternoon at the Monument Square M. E. Church, and the tender regard in which the deceased was held in this community was borne witness to by the presence of a very large attendance, the church being crowded beyond its seating capacity. The ressive exercises were conducted by the Rev. J. H. Mansfield, pastor the church, of which the deceased was a member. The music of the service was rendered by a quartette, and three members of the Sunday school sang a trio in a touching manner at the close of the service. The floral tributes were numerous. The remains were taken to the Cambridge cemetery for interment.