Edith Kingdon Hiatt
1895 - 1990
Edith wrote a letter to Santa in December, 2006, when she was 11 years old. She did this to enter a contest. The Boston American newspaper gave away $2 each day to the child who wrote the best letter. Today $2 is about $50.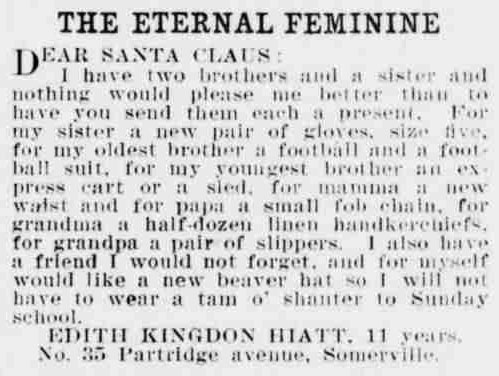 The Boston American
Wednesday, December 5, 1906
Vol. 3. No. 256
New England Newspaper Publishing Company
page 8
THE ETERNAL FEMININE
DEAR SANTA CLAUS:
I have two brothers and a sister and
nothing would please me better than to
have you send them each a present. For
my sister a new pair of gloves, size five,
for my oldest brother a football and a foot-
ball suit, for my youngest brother an ex-
press cart or a sled, for mamma a new
waist and for papa a samll fob chain, for
grandma a half-dozen linen handkerchiefs,
for grandpa a pair of slippers. I also have
a friend I would not forget, and for myself
would like a new beaver hat so I will not
have to wear a tam o' shanter to Sunday
school.
EDITH KINGDON HIATT, 11 years
No. 35 Partidge avenue, Somerville.
Her sister is Ruth, the oldest brother is Albert and the youngest brother is Frank. Her grandparents are William Hiatt and his wife Margaret Ann Taylor, her father's parents. Her mother's parents were not living in 1906.
The address is not where she lived at the time. She lived in Malden. In 1900 a family from Bohemia was living in the house on Partridge Avenue and in 1910 a family from Canada was living there. Both families rented.
Edith wins!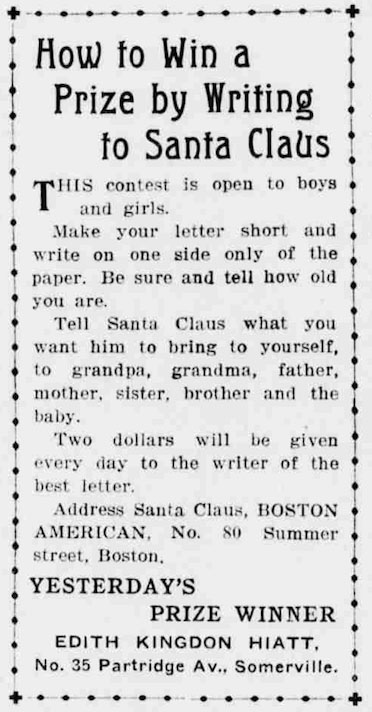 The Boston American
Wednesday, December 6, 1906
Vol. 3. No. 257
New England Newspaper Publishing Company
page 8
How to Win a
Prize by Writing
to Santa Claus
THIS contest is open to boys
and girls.
Make your letter short and
write on one side only of the
paper. Be sure and tell how old
you are.
Tell Santa Claus what you
want him to bring to yourself,
to grandpa, grandma, father,
mother, sister, brother and the
baby.
Two dollars will be given
every day to the writer of the
best letter.
Address Santa Claus, BOSTON
AMERICAN, No. 80 Summer
street, Boston.
YESTERDAY'S
PRIZE WINNTER
EDITH KINGDON HIATT,
No. 35 Partridge Av., Somerville.