Alfred Peter Roy
1865 - 1938
Alfred was born June 16, 1865 in Rimouski, Quebec. His parents were Francois Regis Roy and Philomene Dube. He was baptized at the Cathedrele St-Germain. His name was Pierre Alfred Roy. People in Quebec went by their middle name.


Alfred Peter Roy's birth entry in the church book for Cathedrele St-Germain, Rimouski, Quebec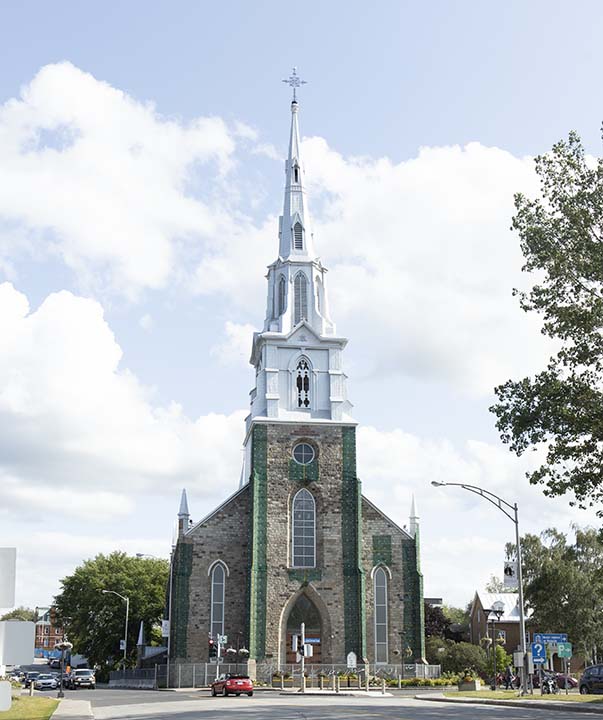 Cathedrele St-Germain
11, Rue Saint-Germain Ouest
Rimouski, Quebec

In 1885 or 1887 when Alfred was 20 or 22, he left Rimouski for Minneapolis, Minnesota. The rest of his family did not immigrate.
Alfred appears in the Minneapolis City Directory for the years 1891 - 1892. He lives in the same building as Etienne Beaudoin, his future father-in-law.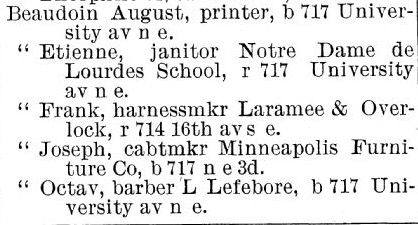 Minneapolis City Directory 1891 - 92
page 214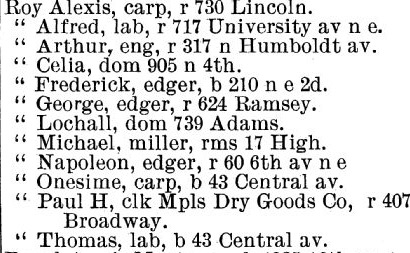 Minneapolis City Directory 1891-92
page 1163
Alfred's future wife was living with her parents and siblings in Minneapolis as can be seen in the City Directory for the years 1888 - 1889.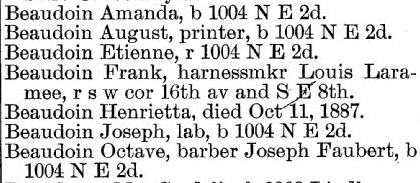 Minneapolis City Directory 1888 - 89
page 263
Alfred and Amanda married on Tuesday, April 14, 1891, in Minneapolis at the Notre-Dame de Lourdes church.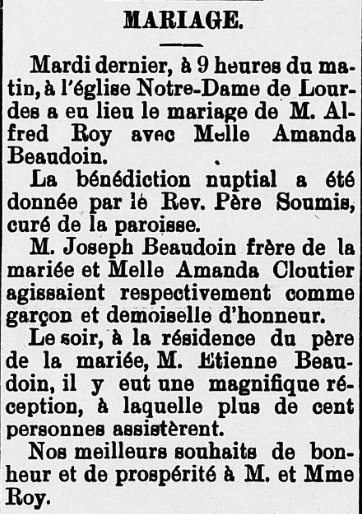 Echo de l'ouest, Minneapolis, Minn., 16 April 1891

WEDDING.
Last Tuesday, at 9 am, at the Notre-Dame de Lourdes church took place the wedding of Mr. Alfred Roy with Ms. Amanda Beaudoin.

The nuptial blessing was given by the Rev. Father Soumis, parish priest.

Mr. Joseph Beaudoin brother of the bride and Ms. Amanda Cloutier acted respectively as boy and maid of honor.

In the evening, at the residence of the father of the bride, Mr. Etienne Beaudoin, there was a magnificent reception, which more than a hundred people attended.

Our best wishes for happiness and prosperity to Mr. and Mrs. Roy.
A few months after Alfred and Amanda's wedding. Alfred's mother visits Minneapolis. Apparantly she came alone leaving her husband in Quebec.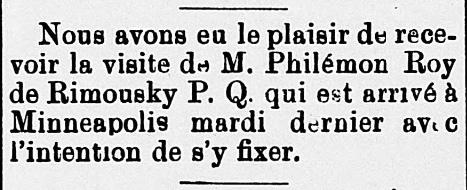 Echo de l'ouest, Minneapolis, Minn., 08 Oct. 1891
We had the pleasure of receiving the visit of Mr. Philémon Roy from Rimousky P. Q. who arrived in Minneapolis last Tuesday with the intention of settling there.
Amanda's father died in 1892 of pneumonia and the couple moved to Superior, Wisconsin. Supposedly Alfred found work with the railroad. Their first two children, Anna and Dora were born in Superior, Wisconsin in 1894 and 1895.
Their next child, Alfred Joseph, was born in 1896 in Rhode Island. Supposedly Amanda wanted to move to Rhode Island to be near her sister Delphine who moved with her husband, Francois Bouchard, to Rhode Island in 1891. Also moving to Rhode Island was Amanda's other sister Delima and her husband Achille Lavoie. Delima and Archille moved to Rhode Island from Superior, Wisconsin about the same time as Alfred and Amanda did.
Also moving to Rhode Island were some children of Alfred's brother Samuel. Samuel's daughters Marie Reine Hosanna Hectorine who married William Reilly and Marie Alice who married Fred Charboneau lived in Rhode Island. Samuel's son Josephe Alphonse Roy who married Florida Sawyer lived in Warwick, Rhode Island. Samuel's daughter Fontina (who went by Marion) married Derias Mimeault and mostly lived in Fall River, Massachusetts.
Alfred and Amanda had ten children, eight lived to adulthood.
| | Birth | Death |
| --- | --- | --- |
| Anna Marie | January 13, 1894 | July 5, 1938 |
| Dora Marie | July 20, 1895 | September 13, 1978 |
| Alfred Joseph | September 23, 1896 | February 4, 1957 |
| Yvonne A | February 22, 1898 | April 17, 1971 |
| Leo Regis | June 16, 1900 | February 25, 1989 |
| Napoleon Charles | May 8, 1902 | June 10, 1995 |
| Louis Auguste | August 14, 1904 | Decmeber 1968 |
| Emil | May 17, 1908 | April 25, 1909 |
| Eugene Emil | June 27, 1909 | September 12, 1987 |
| Frank | ??? | ??? |
According to the 1905, 1910, and 1920 census Alfred was a carpenter working on houses. In the 1935 Rhode Island census he is listed as a farmer. In the 1930 census he is listed as a farmer working on a truck farm. Truck farms raise vegetables for market. From his son Leo's wedding announcement, the firm was called Roy & Sons and they were market gardeners.
From the 1905 Rhode Island census Alfred could not read or write.
Here are some newspaper articles that mention Alfred: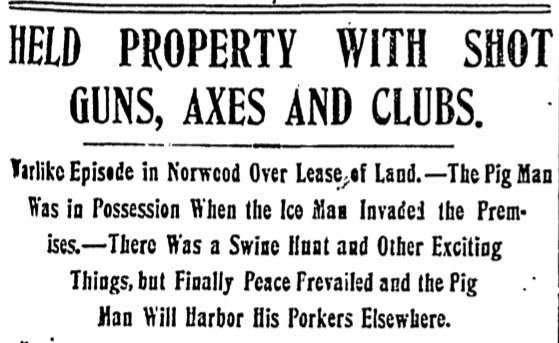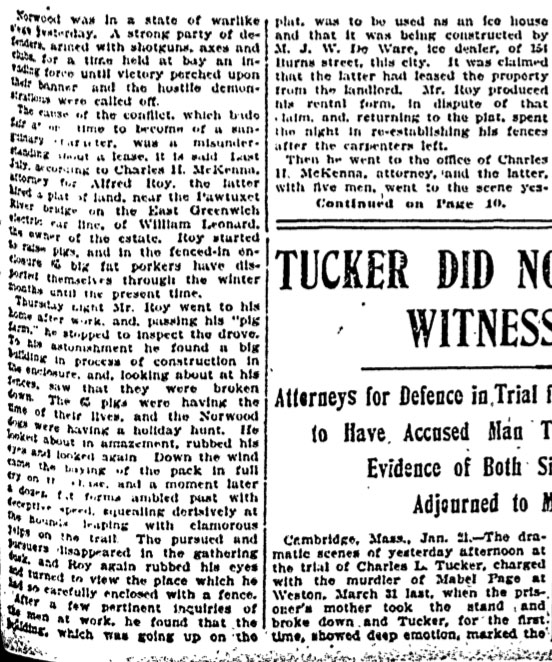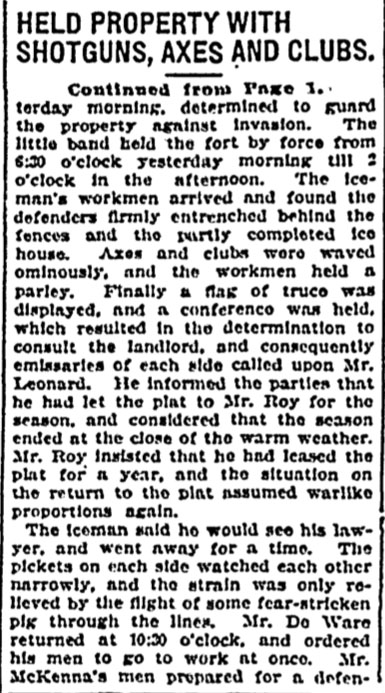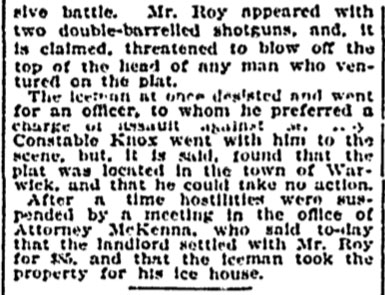 The Evening Bulletin
Saturday, January 21, 1905, pages 1 and 10
Vol. XLIII No. 18
Providence, R.I.

HELD PROPERTY WITH SHOT
GUNS, AXES AND CLUBS.

—————————————————
Warlike Episode in Norwood Over Lease of Land.—The Pig Man
Was in Possession When the Ice Ma Invaded the Prem-
ises.— There Was a Swine Hunt and Other Exciting
Things, but Finally Peace Prevailed and the Pig
Man Will Harbor His Porkers Elsewhere.
Norwood was in a state of warlike
xxx yesterday. A strong party of de-
fenders armed with shotguns, axes and
clubs for a time held at bay and in-
vading force until victory perched upon
their banner and the hostile demon-
stations were called off.

The cause of the conflict, which xxx
fair at xxx time to become of a san-
guinery xxx later, was a misunder-
standing about a lease, it is said Last
July according to Charles R. McKenna,
attorney for Alfred Roy, the latter
lived a plat of land, near the Pawtuxet
River bridge on the East Greenwich
electric car line, of William Leonard,
the owner of the estate. Roy started
to raise pigs, and in the fenced-in en-
closure xx big fat porkers have dis-
ported themselves through the winter
months until the present time.

Thursday night Mr. Roy went to his
home after work, and, passing his "pig
farm," he stopped to inspect the drove.
To his astonishment he found a big
building in process of construction in
the enclosure, and, looking about his
fences, saw that they were broken
down. The 65 pigs were having the
time of their lives, and the Norwood
dogs were having a holiday hunt. He
looked about in amazement, rubbed his
eyes and looked again. Down the wind
came the xxx of a pack in full
cry on xx xxx, and a moment later
a xx fat forms ambled past with
deceptive speed squealing derisively at
xxx xxx leaping with clamorous
pups on the trail. The pursued and
pursuers disappeared in the gathering
dark, and Roy again rubbed his eyes
and turned to view the place which he
had so carefully enclosed with a fence.

After a few pertinent inquires of
the men at work, he found that the
building, which was goin up on the
plot, was to be used as an ice house
and that it was being constructed by
M.J. W. De Ware, ice dealer of 154
Burns street, this city. It was claimed
that the latter had leased the property
from the landlord. Mr. Roy produced
his rental form, In dispute of that
claim, and, returning to the plat, spent
the night in re-establishing his fences
after the carpenters left.

Then he went tot he office of Charles
R. McKenna, attorney, and the latter,
with five men, went to the scene yes-

Continued on Page 10.

HELD PROPERTY WITH
SHOTGUNS, AXES AND CLUBS.
——-
Continued from Page 1.

terday morning, determined to guard
the property against invasion. The
little band held the fort by force from
6:30 o'clock yesterday morning till 2
o'clock in the afternoon. The ice-
man's workman arrived and found the
defenders firmly entrenched behind the
fences and the partly completed ice
house. Axes and clubs were waved
ominously, and the workmen held a
parley. Finally a flag of truce was
displayed, and a conference was held,
which resulted in the determination to
consult the landlord, and consequently
emissaries of each side called upon Mr.
Leonard. He informed the parties that
he had let the plat to Mr. Roy for the
season, and considered that the season
ended at the close of the warm weather.
Mr. Roy insisted that he had leased the
plat for a year, and the situation on
the return to the plat assumed warlike
proportions again.

The iceman said he would see his law-
yer, and went away for a time. The
pickets on each side watched each other
narrowly, and the strain was only re-
lieved by the flight of some fear-stricken
pig through the lines. Mr. De Ware
returned at 10:30 o'clock, and ordered
his men to got work at once. Mr.
McKenna's men prepared for a defensive-
sive battle. Mr. Roy appeared with
two double-barrelled shotguns, and, it
is claimed, threatened to blow off the
top of the head of any may who ven-
tured on the plat.

The iceman at once xxx and went
for an officer, to whom he preferred a
charge of assault agains Mr. Roy.
Constable Knox went with him to the
scene, but, it is said, found that the
plat was located in the town of War-
wick, and that he could take no action.

After a time hostilities were sus-
pended by a meeting in the office of
Attorney McKenna, who said to-day
That the landlord settled with Mr. Roy
for $85, and that the iceman took the
Property for his ice house.


The News-Democrat
Tuesday, June 23, 1908, page 4
Providence, R.I.
The complaint of John M. Tourtellot, C.
A. Brigham and others of Norwood
against a "piggery" maintained on the
Apponnaug road, between Lincoln Park
and Norwood, by Alfred P. Roy, was re-
ceived, alleging that the place was a
nuisance and a menance to health. It was
referred to Dr John A. Mack, health of-
ficer, with instructions to report at the the
next meeting.

The Evening Tribune
Tuesday, March 17, 1914, page 9
Providence, R.I.

HAD TO PAY THE COSTS
Alfred Roy, who was arrested a week
or more ago on complaitn of Truant
Officer John J. Hargraves for keeping
his three children from school, was ad-
judged probably guilty to-day by Judge
Hebert in the Fourth District Court at
Apponaug and sentence was deferred on
payment of costs.
The Providence News
Friday, March 31, 1922, page 4
Providence, R.I.

TOWN COUNCIL TO
INVESTIGATE WELLS
AT OAKLAND BEACH
The Warwick Town Council voted
at a special meeting at Apponaug last
night to have an investigation of the
condition of several wells at Oakland
Beach. A resolution was also adopt-
ed ordering the removal of a garbage
nuisance at Norwood, after a petition
signed by about 70 residents of the
village was presented to the Coun-
cil.
James Mohr, in speaking in behalf
of the petitioners stated that the
dumping of swill on the property of
Alfred P. Roy by Mr. Roy and others
consitituted a nuisance. The odor from
the garbage heap, according to Mr.
Roy and others, is very disagreeable,
and dangerous to the health of the
comunity. During the discussion
of the alleged nuisance Orrin Hebert
complained of the number of rats
that infest the garbage heap and
stated that he has had to stay up
night shooting them.

The Providence News
Tuesday, April 18, 1922, page 10
Providence, R.I.

HOT POLITICS IN
WARWICK WITH
SWILL ON SIDE

---------

Council President Harring-
ton Not One with Nor-
wood Citizens
---------
If one can judge by the comment
heard in Norwood in regard to
Council President Harrington in-
structing the sergeant-at-arms to
remove a taxpayer who had ap-
peared before the council to defend
himself, there is more than the de-
sire to rid the town of serving as
a dumping ground for swill. At a
previous meeting the council presi-
dent led the fight against Alfred
Roy, who it appears has only six
pigs, and what swill he brings into
the town is used as fertilizer.
When an investigation was
ordered and inspection made of the
place complained of, it was found
that the swill had been plowed in
and not exposed as stated by the
complainant, who it appears is a
neighbor.
It will be recalled by many that
this is the man that Harrington
stopped on the highway for carting
swill without a permit, and his pos-
ing as the health officer at that time
caused a furor that threatened for
a time to wreck the party. It is re-
ported that State Committeeman
Robertson and Health Officer Lock-
wood have had but little in common
since then. It was stated at the time
and probably used to defend Har-
rington that he had no intention to
ursurp the powers of the health of-
ficer when he stopped the swill
team, but thought the driver was
lost and was directing him to Lake-
wood where the political hogs live.
Harrignton's action has stirred up
the feelings of the Norwood citizens
who are not in sympathy with such
strong arm methods, frankly state
that Harrington's mad desire for pub-
licity will react agains him next
fall and his political career will be
cut short.
Residents in Norwood who live
near the highway and in a position
to know, ask why Roy is being dis-
criminated against when another
resident who resides only a short
distance from the council president
is carting swill daily through Elm-
wood avenue in an uncovered wagon
and at times with side boards used
to keep some of it from dropping
all over the street, while the wagon
used by Roy conforms with the law
and is covered completely.
Amanda died Dec 21, 1910 from a burst appendix. Alfred remarried in 1933 to Adeliska Giroux. He was 67 and she was 54. It was her first marriage.
Alfred and Adeliska lived at 25 Chestnut Street, Warwick, Rhode Island. It is now an industrial area off Jefferson Boulevard.
Alfred died August 10, 1938 of cirrhosis of the liver which he had since November of 1887. He is buried in St. Ann's Cemetary, Cranston, Rhode Island. You can see a copy of the death certificate at the FamilySearch website. You will need to sign up for a free account to look at records. Here is the link to the death certificate - https://www.familysearch.org/ark:/61903/3:1:3QS7-L9H7-DJX
Adeliska died in 1955.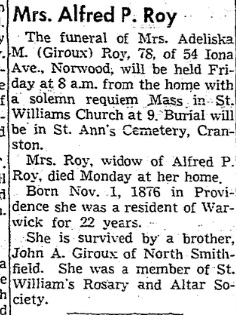 The Providence Journal
Wednesday, October 19, 1955, page 23
Providence, R.I.

Mrs. Alfred P. Roy
The funeral of Mrs. Adeliska
M. (Giroux) Roy, 78, of 54 Iona
Ave., Norwood, will be held Fri-
day at 8 a.m. from the home with
a solemn requiem Mass in St.
Williams Church at 9. Burial will
be in St. Ann's Cemetery, Cran-
ston.
Mrs. Roy, widow of Alfred P.
Roy, died Monday at her home.
Born Nov. 1, 1876 in Provi-
dence she was a resident of War-
wick for 22 years.
She is survived by a brother,
John A. Giroux of North Smith-
field. She was a member of St.
William's Rosary and Altar So-
ciety.
Sources
1910 U.S. census, Kent County, Rhode Island, page 27, dwelling number 215, line 38, Alfred Roy head, digital image, Heritage Quest, accessed 20 January 2008, from National Archives microfilm T624, roll 1436.
1910 United States Federal Census, Census Place: Providence Ward 7, Providence, Rhode Island; Roll: T624_1444; Page: 13A; Enumeration District: 0222; FHL microfilm: 1375457, Achille Lavoie head.
Ancestry.com. Quebec Vital and Church Records (Drouin Collection), 1621-1967 [database on-line]. Provo, UT, USA: The Generations Network, Inc., 2008. Original data: Gabriel Drouin, comp. Drouin Collection. Montreal, Quebec, Canada: Institut Généalogique Drouin, Rimouski (cathedrele St-Germain) 1865 image 18 of 39.
Echo de l'ouest.(Minneapolis, Minn.), 16 April 1891. Chronicling America: Historic American Newspapers. Lib. of Congress. https://chroniclingamerica.loc.gov/lccn/sn83045239/1891-04-16/ed-1/seq-3/
Echo de l'ouest. (Minneapolis, Minn.), 08 Oct. 1891. Chronicling America: Historic American Newspapers. Lib. of Congress. https://chroniclingamerica.loc.gov/lccn/sn83045239/1891-10-08/ed-1/seq-3/">
Evening Bulletin, Saturday, January 21, 1905, pages 1 and 10, Vol. XLIII No. 18, Providence, R.I.
Evening Tribune, Saturday, November 27, 1926, page 5
Providence, RI: Alphabetical Index of Births, Marrriages and Deaths, 1931-1940. (Online database. AmericanAncestors.org, New England Historic Genealogical Society, 2011. Originally published as: Alphabetical Index of the Births, Marriages and Deaths Recorded in Providence, Rhode Island 31 vols. City of Providence, 1879–1945. Volume Marriages 1931 - 1935, page 390 of 485, 38:226.
Rhode Island State Archives, Deaths Registered in the City of Providence, R.I., December 21, 1910, Amanda Roy.
"Rhode Island State Census, 1935," database with images, FamilySearch (https://familysearch.org/ark:/61903/1:1:MPRP-XD1 : 11 March 2018), Alfred P Roy, Kent, Rhode Island, United States; State Archives, Providence; FHL microfilm 1,712,071.
Roy,Alfred, death certificate city or town no. 38-132, 1938 Deaths Vol. 15 (10 August 1938), Department of Health, Providence Rhode Island.
"United States Census, 1920," database with images, FamilySearch (https://familysearch.org/ark:/61903/1:1:MJVZ-7Q3 : accessed 16 December 2019), Leo Roy in household of Alfred Roy, Warwick, Kent, Rhode Island, United States; citing ED 20, sheet 3B, line 95, family 82, NARA microfilm publication T625 (Washington D.C.: National Archives and Records Administration, 1992), roll 1671; FHL microfilm 1,821,671.
"United States Census, 1930," database with images, FamilySearch (https://familysearch.org/ark:/61903/1:1:XMZJ-WJC : accessed 16 December 2019), Leo R Roy in household of Alfred P Roy, Warwick, Kent, Rhode Island, United States; citing enumeration district (ED) ED 12, sheet 10B, line 91, family 268, NARA microfilm publication T626 (Washington D.C.: National Archives and Records Administration, 2002), roll 2169; FHL microfilm 2,341,903.