Philip Duncan Stevens
1894 - 1976
The Havard Freshman Red Book
The Year Book of the Class of 1916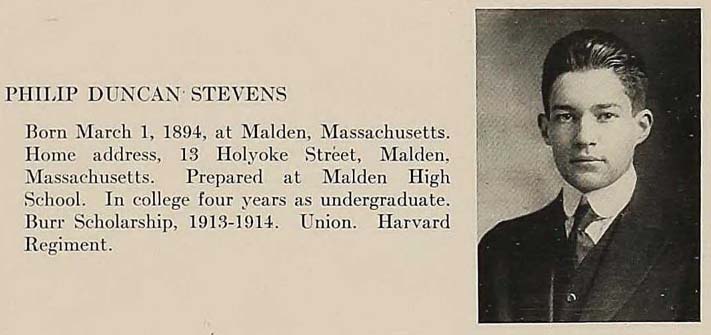 The Burr Scholarship was established in 1914 in memory of Francis H. Burr '09 who died of typhoid fever in 1910 at the age of 24. Burr was a football player and he was a first-team All-American guard in 1906 and the captain of the 1908 Harvard Crimson football team.
The scholarship is awarded each year to a senior who "combines as nearly as possible Burr's remarkable qualities of character, leaderships, scholarship, and athletic ability."
The recipient is selected by the Dean of the College and the Chairman of the Athletic Committee, and receives the gift in his fourth year, together with a copy of the memorial life of Burr.
Read more about the establishment of the scholarship in the Harvard University newspaper The Harvard Crimson January 15, 1914.
Source
The Harvard Freshman Red Book
The Year Book of the Class of
1916
Cuastic-Claflin Co.
32 Brattle Street
Cambridge, Mass.