William White
- 1621
William White came over on the Mayflower with his wife Susanna and his son Resolved. Another son was born on the Mayflower in Cape Cod Harbor between 7 and 10, December 1620. He was named Peregrine. The word peregrine means traveling or migrating.
Also coming across on the Mayflower were his two servants, William Holbeck and Edward Thompson.
William's neice Dorothy May who married William Bradford in Amsterdam, also came over on the Mayflower with her husband. Dorothy's father was Henry May. Henry was William's half-brother, they had different fathers. Henry May was a leading church elder in Henry Ainsworth's congregation of Separatists in Amsterdam. This is where Dorothy and William Bradford were married and where William White was also a member. William Bradford was to become the governor of Plymouth Colony.
William White was one of the signers of the Mayflower Compact.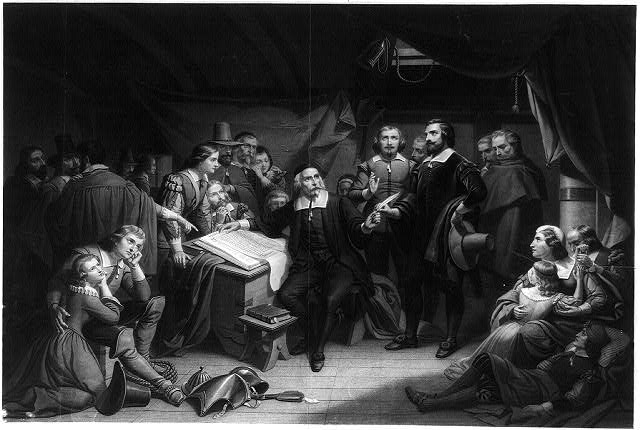 The pilgrims signing the compact, on board the May Flower, Nov. 11th, 1620 / painted by T.H. Matteson ; engraved by Gauthier.
William White was a victim of the harsh first winter in the new colony along with his two servants who also died. His wife, Susanna, married Edward Winslow. This was the first marriage in Plymouth. Edward Winslow's first wife also died the first winter.
Sources
The Mayflower Descendant Vol. I page 13
Johnson, Caleb, Sue Allan, and Simon Neal, The English Origins and Kinship of Mayflower Passengers William White and Dorothy (May) Bradford of Wisbech, Cambridgeshire, The American Genealogist, Whole Number 354, April 2017, Vol. 89, No. 2, page 81.
Morison, Samuel Eiliot, Of Plymouth Plantation 1620 – 1647 by William Bradford, The Modern Library, New York, 1952, p. 86
Wakefield, Robert S. re-edited, originally compiled by Ruth Wilder Sherman and Robert Moody Shermanm, Mayflower Families Through Five Generations Descendants of the Pilgrims who Landed at Plymouth, Mass. December 1620, Volume Thirteen, Second Edition, Family of William White