Minerva Farnsworth Bennett
1867 - 1956
Minerva was born August 12, 1867 in Mendon, Massachusetts. This was the town where her father and grandfather lived and where her parents where married.
While still a baby, her parents and her older brother, along with her father's mother and her father's two younger brothers, moved to Carroll County, Iowa. Shortly after their arrival a boy was born to her parents.
When she was 9 years old her parents divorced in 1876. Three years later her father remarried and moved to Vermont. Minerva and her siblings were raised by their grandmother in Iowa.
According to family lore Minerva was a school teacher in Colorado. She met her husband, Milan Stevens, there while he was on vacation. They married when she was 25 years old and spent the rest of their lives in Malden, Massachusetts.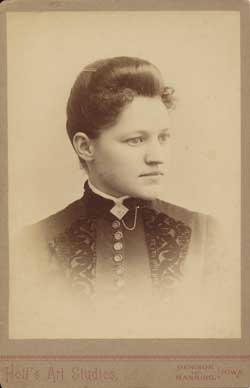 Minnie F. Bennett
Manning, Iowa
1888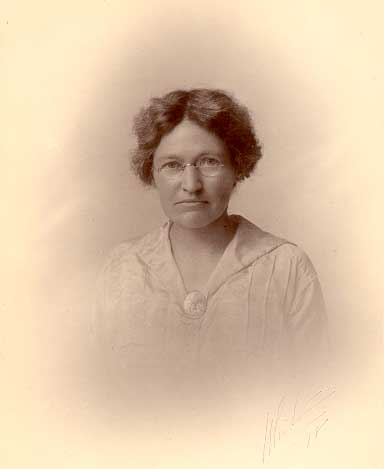 Malden Evening News
January 30, 1956

Mrs. Milan Stevens
Resident 50 Years,
Dies at Hospital
Mrs. Minerva Farnsworth (Bennett) Stevens, wife of the late Milan Stevens, passed away yesterday morning at Malden Hospital. For several years she had been residing at a local nursing home.

A native of Mendon, Mrs. Stevens had been a resident of Malden more than 50 years and lived a few years in Everett.

She leaves a son, Philip D. and his wife Edith Hiatt Stevens of Edgewood, R.I.; and four grandchildren, Mrs. Stanley Wilkinson of San Antonio, Tex, Misses Arlene Patricia and Diana Jean Stevens, both of Edgewood, R.I., and Richard Hiatt Stevens, at present serving in the Armed Forces in the Philippines.

Services will be held Wednesday afternoon at 2:30 at the Margeson funeral home with burial to be in Cambridge City cemetery. Visiting hours will be held tomorrow at the funeral home.
Minerva is buried with her husband at Cambridge Cemetery. There is no grave marker.