Milan Filmore Stevens
1852 - 1919
Milan Stevens was born in Charlestown, Massachusetts. The birth record does not list a first name.
His mother died when Milan was 2 years old. His father remarried the next year. Then when Milan was 13 his father got a divorce. His father married again when he was 14.
Milan Stevens
View actual images of Milan Stevens
Milan prepared for college at Charlestown High School. He entered high school in 1868. He graduated from Harvard in 1876. He graduated from Boston Law School in 1877 with a degree of LL.B., and was admitted to the bar in 1878.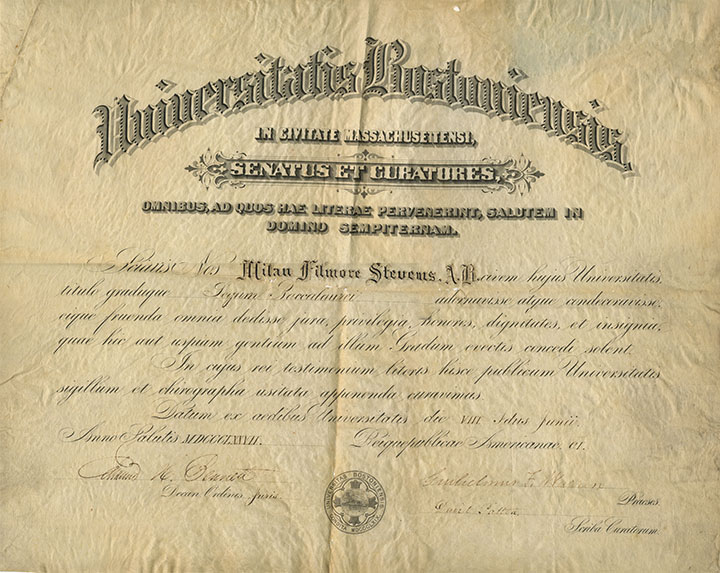 Harvard Degree 1877

He is listed in many directories.
Boston 1895 - Stevens, Milan F. lawyer 62 Devenoshire
Boston 1915 - Stevens, Milan F. lawyer 7 Water room 303 h at Malden, Minnie Mrs. h 12 Holyoke
Envelope - 27 School St., Room 303 Boston
Milan's wife was Minnie Bennett. She was born in Mendon, MA. She grew up in Iowa and she whas a school teacher in Colorado when she met her future husband.
The Malden Evening Mail
August 30, 1892
Milan F. Stevens of this city and Miss Minnie F. Bennett of Buena Vista, Col., were unitied in marriage at the brides's home Monday, Aug. 22. Mr Stevens started five weeks ago on a tour throught the West, and after visiting Buffalo, Niagara Falls, Chicago and other places of interenst he contunued on th Buena Vista. The happy couple arrived home Saturday, and have since been receiving the congratulations of numerous friends. They are residing with Mr. Stevens' sister, Mrs. H. M. Pitcher on Winthrop street.
Milan died June 19, 1919 of tuberculosis in the Contagious Hospital Malden, Massachusetts.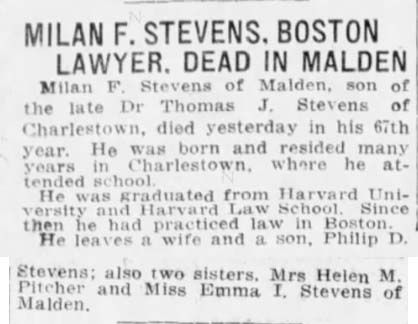 The Boston Evening Globe
Friday, June 20, 1919 page 4
Vol. XCV - No. 171

MILAN F. STEVENS, BOSTON
LAWYER, DEAD IN MALDEN
Milan F. Stevens of Malden, son of the late Dr. Thomas J. Stevens of Charlestown, died yesterday in his 67th year. He was born and resided many years in Charlestown, where he attended school.

He was graduated from Harvard University and Harvard Law School. Since then he had practiced law in Boston.

He leaves a wife and a son, Philip D. Stevens, also two sisters Mrs. Helen M. Pitcher and Miss Emma I. Stevens of Malden.
Sources
Ancestry.com. Massachusetts, Town and Vital Records, 1620-1988 [database on-line]. Provo, UT, USA: Ancestry.com Operations, Inc., 2011. Original data: Town and City Clerks of Massachusetts. Massachusetts Vital and Town Records. Provo, UT: Holbrook Research Institute (Jay and Delene Holbrook).
Charlestown High School : historical sketches of the school, the Association, and the cadets, together with lists of teachers and pupils, and other matters, published by the Association to Commenorate its Twenty-Fifth Anniversary, Boston, Franklin Press; Rand, Avery & Co., 1881, page 90
Harvard College, the Class of 1876: Report of the Secretary, page 75, available at Google Books.
The Harvard Graduates' Magazine, by William Richards Castle, Mark Antony De Wolfe Howe, Arthure Stanwood Pier, Bernard Augustine De Votot, Theodore Morrison, 1934, page 322.
Stevens, Betsy, death certificate, Massachusetts Archives Year: 1854, Vol.: 85, Page: 63, No: 280, Boston, Massachusetts.