William J Hiatt
1839 - 1920
William J Hiatt was born in London, England. From his marriage certificate the year was 1837. His father's name was Richard T. Hiatt and his mother's name is Elizabeth. From the 1900 census both his parents were born in England and William came to this country in 1855. According to the 1910 census he came to this country in 1859. From his naturalization papers he came to the United States on April, 23, 1859.
His age in the 1870 census is 36 (born 1834). His age in the 1880 census is 40 (born 1840). His birth year is listed as 1838 from the 1900 census. His age in the 1910 census is 71 (born 1839).
His death certificate was filled out be his son Frederick. It's lists his birth date as Dec. 22, 1834. The cause of death was pro. chro. cardio renal disease with the secondary cause of death uremic poisoning. He is buried in Mount Hope Cemetery, Boston.
The 1841 and 1851 English census records list William with a father of Richard.
1841 Census

In the 1851 census the father is listed as Richard Thos Hiatt and William is listed as William J Hiatt. The middle initials match. However, the mother is Caroline. She is listed in the 1841 census and not in the 1851 census.
What is very interesting is Richard Hiatt age 15, born 1826. William's son Frederick is buried with Richard T Hiatt, born 1827. Could this be William's brother?
William, brother Richard, and father Richard were all watch makers.
Willaim Hiatt became a United States citizen on July 30, 1892.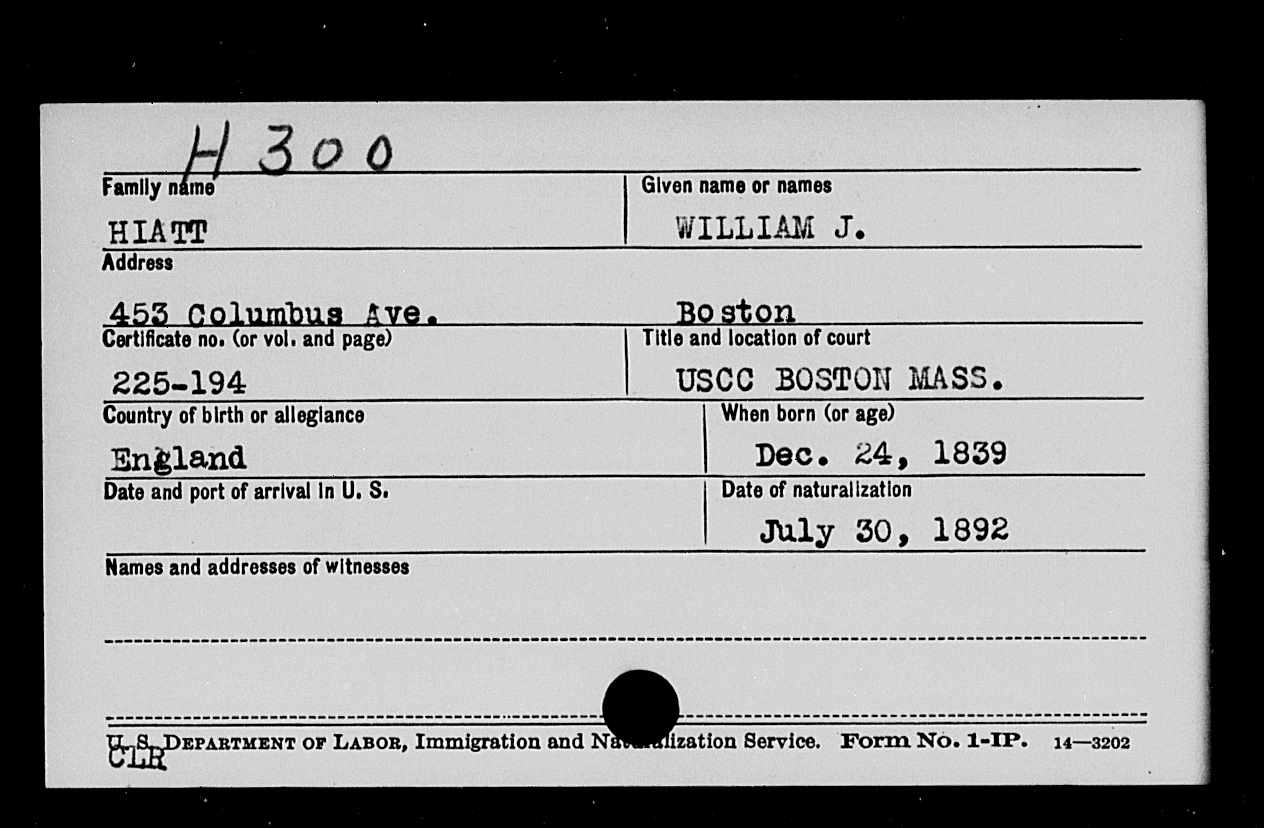 "New England Petitions for Naturalization Index, 1791-1906." Index and images. FamilySearch. http://FamilySearch.org : accessed 2014. Citing NARA microfilm publication M1299. Washington D.C.: National Archives and Records Administration