William J Hiatt
1839 - 1920
William J Hiatt was born in London, England. From his marriage certificate the year was 1837. His father's name was Richard T. Hiatt and his mother's name is Elizabeth. From the 1900 census both his parents were born in England and William came to this country in 1855. According to the 1910 census he came to this country in 1859. From his naturalization papers he came to the United States on April, 23, 1859 and he was born December 24, 1839.
His age in the 1870 census is 36 (born 1834). His age in the 1880 census is 40 (born 1840). His birth year is listed as 1838 from the 1900 census. His age in the 1910 census is 71 (born 1839).
His death certificate was filled out be his son Frederick. It's lists his birth date as Dec. 22, 1834. The cause of death was pro. chro. cardio renal disease with the secondary cause of death uremic poisoning. He is buried in Mount Hope Cemetery, Boston.
The 1841 and 1851 English census records list William with a father of Richard.

1841 Census
In the 1851 census the father is listed as Richard Thos Hiatt and William is listed as William J Hiatt. The middle initials match. However, the mother is Caroline. She is listed in the 1841 census and not in the 1851 census.
What is very interesting is Richard Hiatt age 15, born 1826. William's son Frederick is buried with Richard T Hiatt, born 1827. Could this be William's brother?
William, brother Richard, and father Richard were all watch makers.
Children
William had two sons, Frederick and Winfield. According to the death certificate for Lullie Brooks Hiatt, her parents were William and his wife Margaret. Lullie was born in 1855, seven years before William and Margaret were married.
Winfield was a disappointment since he was involved in criminal activities.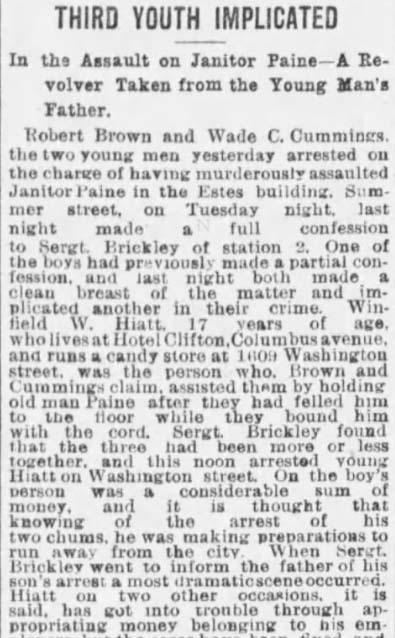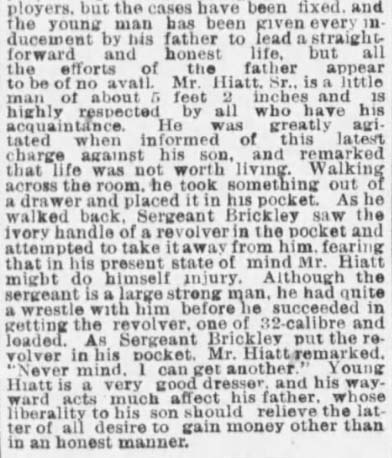 Boston Globe, Vol. XXXVI, No. 61, Friday Evening, August 30, 1889, page 5

THIRD YOUTH IMPLICATED
-----
In the Assault on Janitor Paine--A Re-
vover Taken from the Young Man's
Father.
Robert Brown and Wade C. Cummings,
the two young men yesterday arrested on
the charge of having murderously assaulted
Janitor Paine in the Estes building Sum-
mer street, on Tuesday night, last
night made a full confession
to Sergt. Brickley of station 2. One of
the boys had previously made a partial con-
fession, and last night both made a
clean breast of the matter and im-
plicatd another in their crime. Win-
field W. Hiatt, 17 years of age,
who lives at Hotel Clifton, Columbus avenue,
and runs a candy store at 1609 Washington
street, was the person who, Brown and
Cummings claim, assisted them by holding
old man Paine after they had felled him
to the floor while they bound him
with the cord. Sergt. Brickley found
that the three had been more or less
together, and this noon arrested young
Hiatt on Washington street. On the boy's
person was a considerable sum of
money, and it is thought that
knowing of the arrest of his
two chums, he was making preparations to
run away from the city. When Sergt.
Brickly went to inform the father of his
son's arrest a most dramatic scene occurred.
Hiatt on two other occasions, it is
said, has got into trouble throught ap-
propriating money belonging to his em-
ployers, but the cases have been fixed, and
the young man has been given every in-
ducement by his father to lead a straight
forward and honest life, by all
the efforts of the father appear
to be of no avail. Mr. Hiatt Sr., is a little
man of about 5 feet 2 inches and is
highly respected by all who have his
acquaintance. His was greatly agi-
tated when informed of this latest
charge against his son, and remarked
that life was not worth living. Walking
across the room, he took something out of
a drawer and placed it in his pocket. As he
walked back, Sergeant Brickley saw the
ivory handle of a revolver in the pocket and
attempted to take it away from him, fearing
that in his present state of mind Mr. Hiatt
might do himself injury. Although the
sergeant is a large strong man, he had quite
a wrestle with him before he succeeded in
getting the revolver, one of 32-caliber and
loaded. As Sergeant Brickley put the re-
volver in his pocket, Mr. Hiatt remarkded
"Never mind, I can get another." Young
Hiatt is a very good dresser and his way-
ward acts much affect his father, whose
liberality to his son should relieve the lat-
ter of all desire to gain money other than
in an honest manner.
The charges were breaking, entering and larcency with an assault on Janitor Thomas J. Paine with an intent to murder. Winfield was sentenced to four years to the house of correction with one day solitary for breaking, entering and larceny. He was found not concerned with the assault.
Winfield eventually made a living as an actor in the theater.
Naturalization
Willaim Hiatt became a United States citizen on July 30, 1892.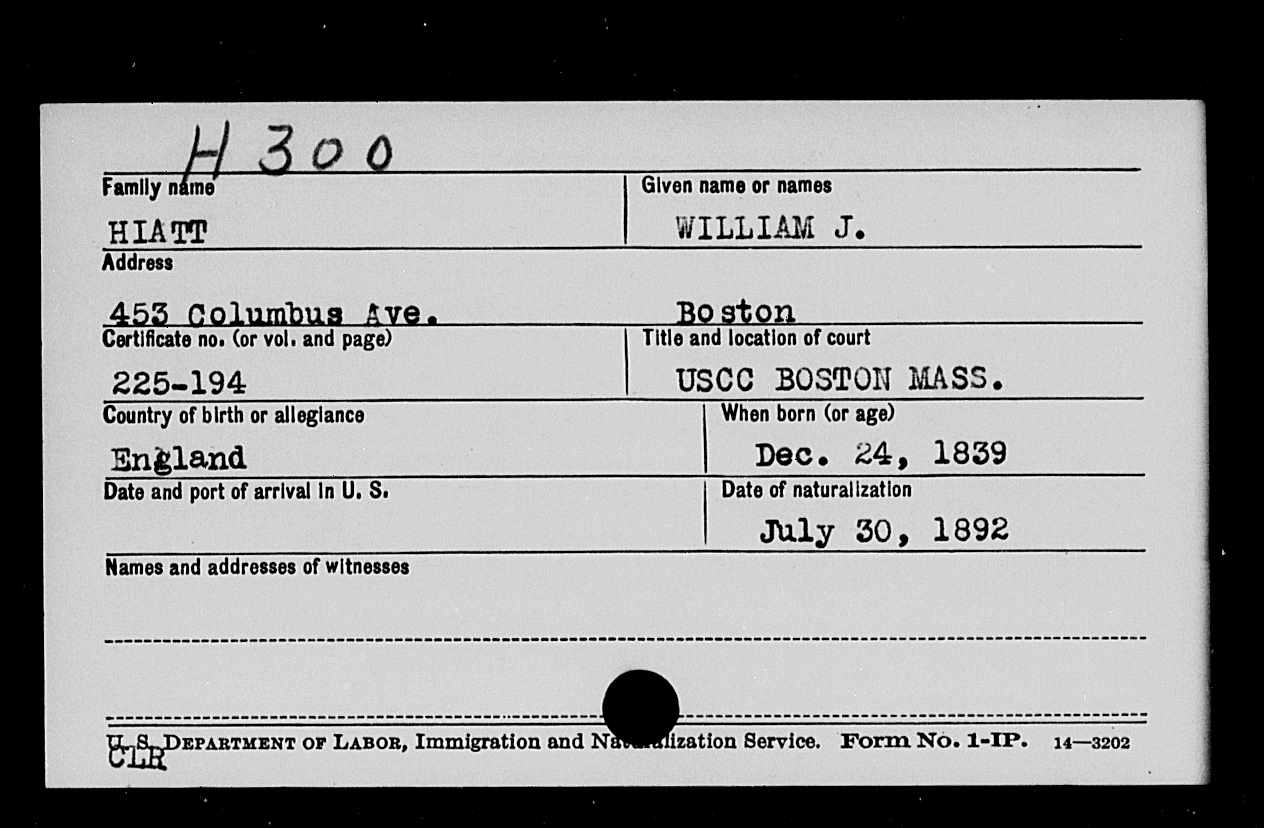 "New England Petitions for Naturalization Index, 1791-1906." Index and images. FamilySearch. http://FamilySearch.org : accessed 2014. Citing NARA microfilm publication M1299. Washington D.C.: National Archives and Records Administration